Meet Dr. Katherine Upmann
Dr. Katherine Upmann has always loved helping people; that's what the middle child does! She's passionate about helping others feel better, so they can perform at their best.
Knowing that she can watch someone crawl through the door and, after treatment, walk out standing straight is a great feeling. Being able to restore hope to people who haven't been listened to. Listening to their stories, and figuring out a way to help those who have been ignored, makes it worthwhile.
A Personal Chiropractic Journey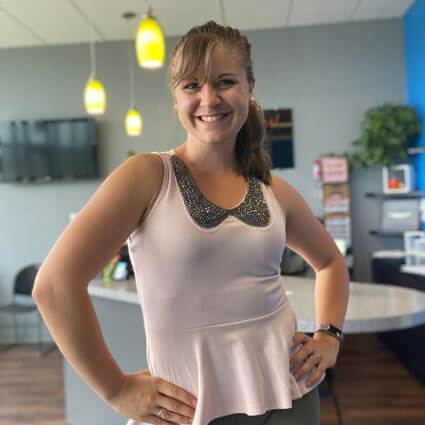 Since middle school, Dr. Katherine knew she wanted to be a chiropractor. Both her parents had back issues. Her mom's condition was so bad, surgery was being considered. Under chiropractic care, Dr. Katherine saw her parents improve. Her mom regained function, started moving better, and avoided surgery.
Dr. Katherine was always interested in science and health. She also had chiropractic care throughout her life for random aches and pains. Being able to treat her issues without having to take medicine was important to her.
Watching chiropractic help her parents, and knowing how good she felt after treatment, convinced her this was the career for her. From that time on, she moved with that goal in mind.
Dr. Katherine attended Northwestern Health Sciences University, graduating in 2018. She has been in practice since January 2019. In addition to general chiropractic, she provides pregnancy and pediatric chiropractic services. She is also certified in the Graston soft-tissue technique.
EXPLORE OUR SERVICES
Outside the Practice
When she's not providing quality care to her patients, Dr. Katherine likes to spend time with her husband, family members and friends. That might include kayaking with her husband, spending time boating with the family on one of the many nearby lakes. Or having a glass of wine with a girlfriend.
Ready to Book Your Visit?
Dr. Katherine would love to chat with you about your concerns. Contact us to set up your free telephone consultation and start feeling better soon.

Dr. Katherine Upmann | (763) 710-8888